One of the main events at the Kames Motorsport Complex is sprints, attracting drivers from all over the UK&I to Scotland's only purpose built speed venue. Sprinting involves one car at a time running against the clock from a standing start and at Kames, one run is either 3 laps running clockwise or 2.75 laps running anticlockwise. There are normally 2 or 3 practice runs in the morning and 2 competitive runs in the afternoon.
Cars are divided into class by engine size and by whether they are road legal, modified or racing cars. East Ayrshire events are run to Scottish Sprint Championship regulations. Events run at the track by other Clubs may have cars running to a different specification i.e. full interior trim or totally stripped out interiors in Road Cars, so check which regulations apply. Entry fees for EACC events in 2013 are held at £75.
Getting Started
It's a great sport to get involved in and you CAN do it on a budget.
Check out the getting started section of the Scottish Sprinting web site for a guide on how to get started in sprinting.

Scottish Sprint and Hillclimb Championships

Lowland Speed Championship

British Sprint Championship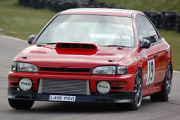 John Stevenson in his
500bhp Impreza