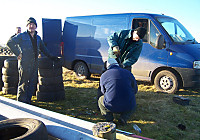 It's that time of year again when the season's almost over and Kames track needs a bit of TLC to help it recover from the toll of the season's racing and prepare it for next year.
There's a bit of general track maintenence to be done and you won't need any particular skills or trades to get involved. You just need to be prepared to muck in and, for a full day's graft, you can earn yourself a track pass which can be used for a Kames test day or as a £25 discount against any EACC event - what more could a petrolhead ask for?!
The club have ambitious plans this year to improve the facilities and offer much more to all it's members. Your support in achieving this would be much appreciated.
Thank you for your time and support. We hope to see you all at Kames.